I'll be bringing the band to GENDER UNBOUND in Austin
09/18-20,21 (Date TBD)


NEW SINGLE! "I'm Awake" – 07/31/2019


I make music for people who like my music. While this may be a departure from what I'm generally known to do, I really enjoy working on 'dance music'! You can download/stream at all the major outlets ! Produced by Justin Mathews (NYC).
---
OFFICIAL RELEASE – 3/25/2019
"Lost In Space" – The Revolver (feat. Lenny Zenith)
---
OFFICIAL RELEASE – XYYX Records
ORDER digital, CD, and/or vinyl (t-shirts too) today! – on Bandcamp
A portion of all proceeds benefits transgender organizations.
---
BILLBOARD INTERVIEW!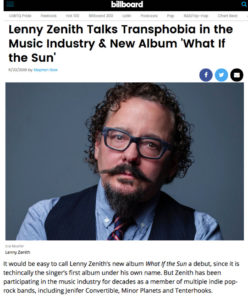 ---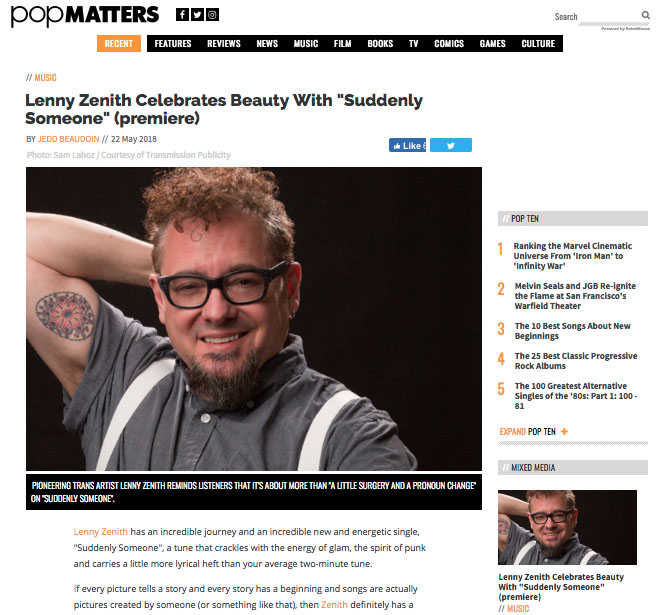 Thanks PopMatters! "Suddenly Someone", a tune that crackles with the energy of glam, the spirit of punk and carries a little more lyrical heft than your average two-minute tune."
---
Some awesome new mentions from Music Injection, Post-Trash, OUT Mag!
"Lenny Zenith's rock legacy is as legendary as it is quiet. For over three decades, the New Orleans musician has released music with bands that include Jenifer Convertible and Tenderhooks and opened for everyone from U2 to Iggy Pop.
Now, over 30 years after his quiet transition, he has crafted a legacy in rock and roll as one of the genre's first true transgender rock stars." – OUT Magazine

OLDER NEWS:
---


What was it like to open for U2 on a New Orleans riverboat in 1982? Ask Lenny Zenith
In the following, edited passage from a forthcoming memoir, "Before I Was Me," RZA singer-guitarist Lenny Zenith, now a writer and musician based in New York, recalls the rush of that sweaty, long-ago night with U2.
---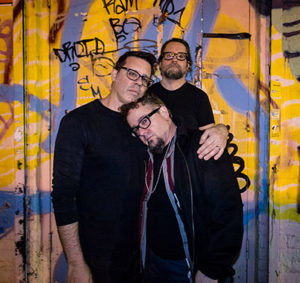 LENNY ZENITH + TENTERHOOKS:
POP DOSE – HIGHLY RECOMMENDED! "…vocal chops and songwriting skills always equal a winning combination. For a debut E.P., this is a damned good primer for things to (hopefully) come." Read more!
---
Lenny Zenith at Losers Lounge tribute to Burt Bachrach "Always Something There to Remind Me"
Say hi, listen to my music — if you like it, buy some.