Pair of ballads "a departure" for indie-rocker; proceeds to benefit transgender homeless in New Orleans
---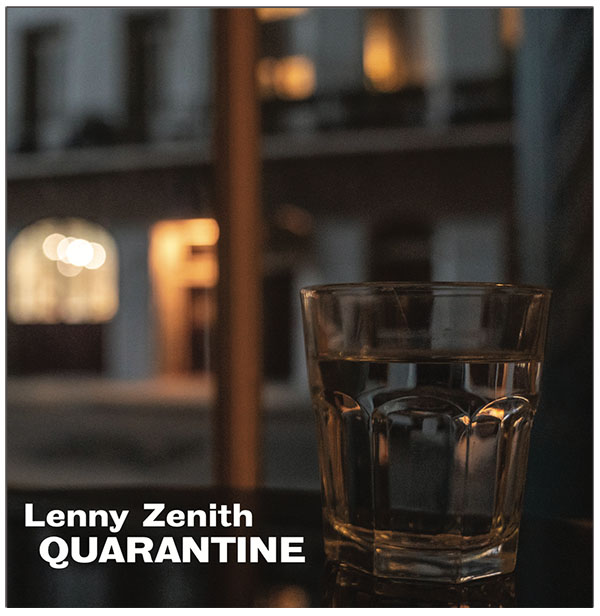 Singer, composer and transgender rights activist Lenny Zenith announces the release of Quarantine, two songs recorded remotely with musicians in New Orleans, New York, and New Jersey.
"Always Near Me" (Side A) is a jazzy ballad featuring Lenny's longtime friends, drummer Carlo Nuccio (Continental Drifters, Pat McLaughlin), and Paul Clement (Twangorama, Woodenhead), both veterans of past Zenith bands. Featured performers include New Orleans pianist Brian Coogan, (Johnny Vidacovich, Alex McMurray), and trumpeter Scott Frock (Sturgill Simpson, Nathaniel Rateliff & the Night Sweats, The O'Jays, The Temptations, and Gladys Knight), as well as another longtime friend, Alison Young (Songdogs), who contributes intimate vocal harmonies.
"How We Got Here" (Side B) is an orchestral ballad about acceptance and grace, composed and arranged by Zenith with Joe McGinty (Losers Lounge, Psychedelic Furs, Baby Steps) on piano, Claudia Chopek (Echo of the Ghost, New Retro Strings) on violin and viola, and Eleanor Norton (Adele, Natalie Merchant, Jay -Z, etc.) on cello.
The single marks a departure for the frenetic performer and former 'punk rock' singer, known for his work with Pop Combo, Jenifer Convertible, Without Misty, and Tenterhooks.

"I wrote these songs around the beginning of the pandemic," said Zenith. "Reflecting on the substantial changes to my day-to-day life, I considered the many, often unexpected paths life leads us down — past loves, dreams lost then found, and the fragility of life. I felt an intense longing for connections of the heart.
"I was also exploring new paths away from pain and loss and was a bit surprised
these songs came out of me in this style," he added. "I felt extraordinarily fortunate to connect with musicians I had worked with on and off with for many years (and a couple of new ones as well)."

"Always Near Me" was produced by Tom Stern of Blue Velvet Studios NOLA and drummer Carlo Nuccio.
"How We Got Here" was produced by Tom Stern (Blue Velvet Studio) and Ray Ketchem (Magic Door, NJ)
Artwork and photography for Quarantine is by well-known New Orleans musician, photographer and artist Skip Bolen.
---
"Lenny Zenith's rock legacy is as legendary as it is quiet…he has crafted a legacy in rock and roll as one of the genre's first true transgender rock stars." – OUT.com
---
"Zenith is finally taking his music into his own hands. The singer tells Billboard that for years he didn't feel safe publicizing himself because of his transgender identity. But now, he's ready to let the world know exactly who he is." – Billboard
---
Proceeds from the single support House of Tulip (NOLA) for transgender, non-binary and gender non-conforming people experiencing housing insecurity. houseoftulip.org