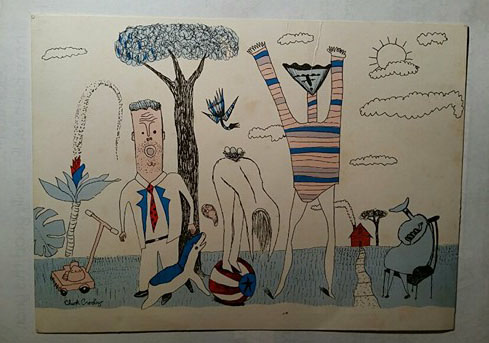 When I decided to release a full album, I knew these were some of the best songs I had written in the decade prior and some of my favorites.
Some were reworkings of earlier recordings, and I wanted to make sure they got the love and attention I felt they deserved. Perhaps I was being overindulgent and a bit over-confident. After working with bands, I was ready to do "my own thing". I'm forever grateful to the musicians and engineers as well as to the generous supporters who contributed to the Kickstarter campaign to get this out into the world!
I wanted to work with the best musicians I could find and get the best recordings. I wanted to make a great record that was honest, that captured my ideas — if not perfect.

Some of these songs had been kicking around for years and they found a home in this little disk. I was excited to work with my friend and bassist James Pertusi again and powerhouse drummer Scott Campbell. Friends I had worked with in the mid 90s, Ray Ketchem and Reneé LoBue were brought on to produce sing and collaborate in a generous and holistic effort. We had a TON of fun making this record!

I brought in Ben Collins and Leah Diehl who I had worked with in Ann Arbor in our group Minor Planets. Introductions to keyboardist, Carl Baggely and friend Claudia Chopek on violin allowed me to interpret the vision I had of a more expansive sound than the stripped down indie rock records I had made prior. The addition of the children's choir was the icing on top. "Still I Rise"

The songs range from power pop, and punky ditties to more orchestral works and the quirky "What If The Sun" which was a clear nod to Courtney Barnett which I am not shy to admit.
A full reworking of the bouncy "Sunday Dress" was one of the most fun tracks as what rerecording "Suddenly Someone" for the second time. I'll never forget Bob Lester playing keyboard on that in Ypsilanti!
The record is a bit all over the place (like I am), but has some really strong performances and some pretty good songs if I say so myself. "Wish has always been a favorite and I love how it came out, and "Whatever Stella" took all my favorite punk tropes and rolled them into a snotty little song.
I did hire a publicist for this release for the first time and it woked out with some good review and a mention in Billboard Pride which makes sense since it came out in June
I also raised a bunch of money for Trans Lifeline and Trans Women of Color. If you bought it, or contributed, thank you! If you haven't, there's still vinyl and CDs available and even a t-shirt or two. You can still buy a copy here!

I'm still super proud of this record especially now celebrating it three years later!

Here's what the music press said about the record.
Read the cool background of the artwork here!
Tracklist
| | | |
| --- | --- | --- |
| 1 | Sunday Dress | 2:51 |
| 2 | What If The Sun | 3:02 |
| 3 | Cold War | 2:53 |
| 4 | Stress Test | 3:26 |
| 5 | Wish | 3:24 |
| 6 | Suddenly Someone | 1:53 |
| 7 | Trouble | 2:01 |
| 8 | Decompress Baby | 2:13 |
| 9 | Hands | 2:37 |
| 10 | Whatever Stella | 2:30 |
| 11 | Still I Rise | 3:04 |
| 12 | Out Of Days | 3:15 |
Credits