LENNY ZENITH
[New York, NY] – Lenny Zenith, the pioneering singer/songwriter and native New Orleanian, has captivated audiences worldwide with his fearless exploration of music and unwavering commitment to authenticity.

With a prolific career spanning years that began in New Orleans in his teens, Zenith has been the driving force behind acclaimed bands such as Jenifer Convertible, Tenterhooks, Minor Planets, Pop Combo, and even claimed the name RZA (before he became synonymous with Wu-Tang Clan). Zenith has been a staple on the New Orleans scene for decades and regularly peforms and records in his hometown with an eye on bringing his resources to the city and more visibility to the artists that have always influenced and inspired him. He is the sole administrator for Leigh (Little Queenie) Harris' catalog.
Notably, Zenith has collaborated with renowned producers James Murphy (pre-LCD Soundsystem) and Wharton Tiers (Sonic Youth, Dinosaur Jr.), while also sharing the stage with legendary acts including U2, Iggy Pop, The Replacements, X, and many other notable artists.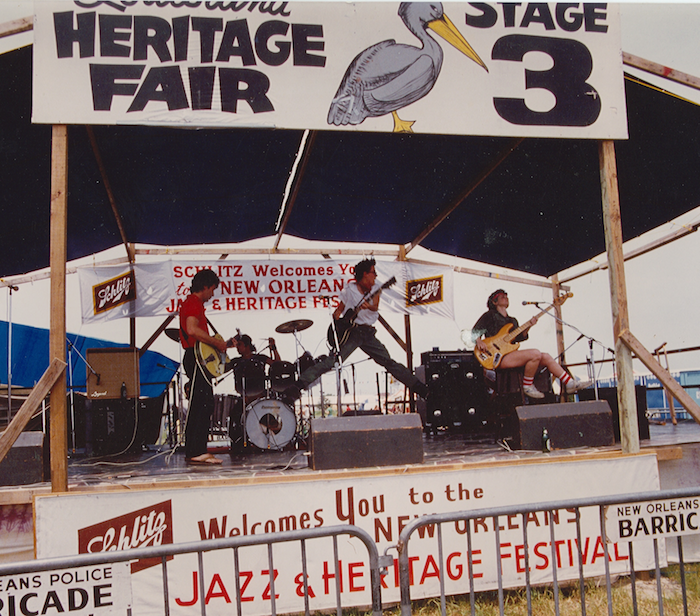 Lenny cut his teeth in New Orleans' clubs Jeds, Jimmy's, and Tipitinas and many New Orleans Jazz & Heritage Festival appearances, first in 1981 (pictured with Becky Kury) and most notably a closing day set on the main stage with The Neville Brothers and Stevie Ray Vaughn with the Lenny Zenith Band.
While Zenith's indie/punk rock roots run deep, his musical endeavors transcend genres. Embracing influences from his Cuban heritage, Zenith seamlessly fuses rock with elements of jazz, electronica, pop, and even orchestral ballads, resulting in a mesmerizing sonic tapestry that defies categorization.
Zenith's personal journey of self-discovery began during his formative years in vibrant New Orleans, where he navigated the trials of adolescence and found solace and musical inspiratation the New Orleans Center for Creative Arts (NOCCA).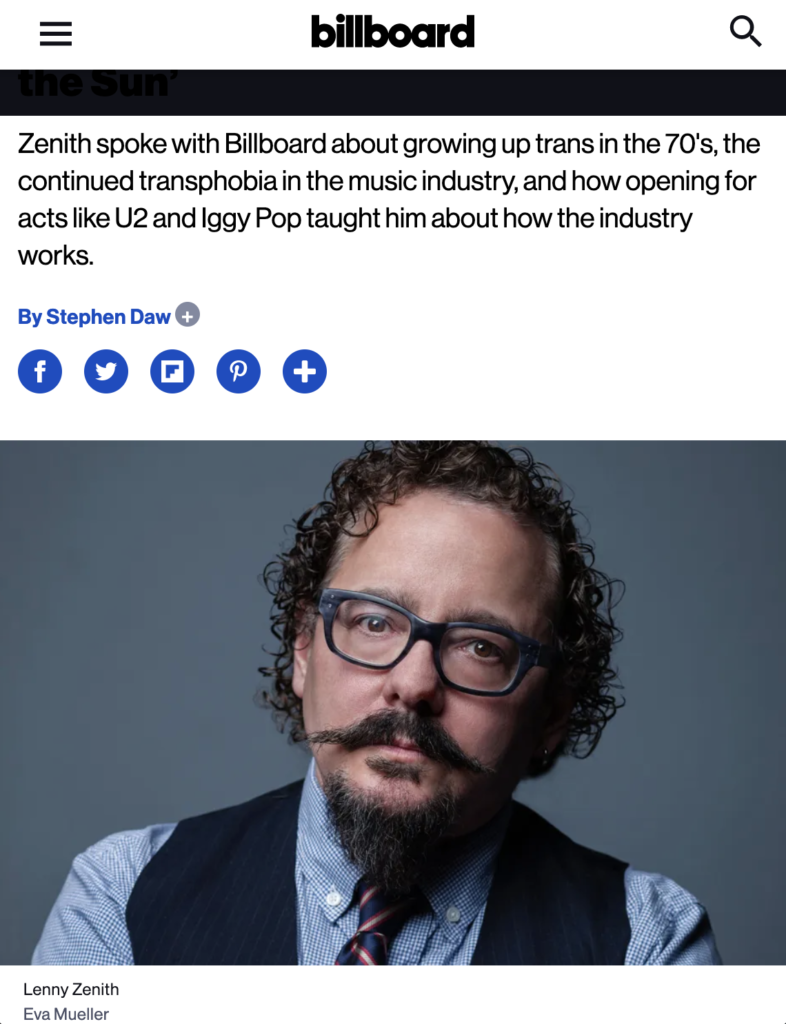 Zenith's transformative journey, though initiated in his teenage years, remained concealed from the public eye for many years. In an interview with Billboard magazine, Zenith candidly shared the profound fear that had prevented him from fully embracing his transgender identity, mainly due to safety concerns. However, a newfound courage now propels Zenith forward, ready to unveil his true self to the world. "I want my voice to resound, and I yearn to collaborate with fellow transgender individuals and artists," Zenith passionately expressed.
In 2018, Zenith soared as a solo artist with the release of his debut album, "What If The Sun," which captivated listeners with its raw vulnerability and thought-provoking melodies. Now, on the precipice of a new chapter, Zenith is tirelessly crafting a groundbreaking album set to grace the world stage in 2024.
Adding to the excitement, Zenith has released his 'love letter' to his hometown of New Orleans with "Always In My Heart (New Orleans Is My Home)" on May 12th. Recorded (and filmed) in New Orleans, it features several renowned New Orleans musicians. It was inspired by and dedicated to his dear friends and past collaborators, Leigh Harris and Carlo Nuccio.
Music catalog >
Press >
Gallery >