LENNY ZENITH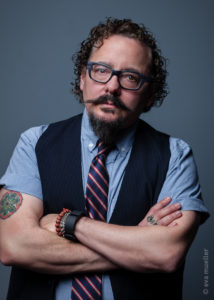 Originally from New Orleans, I am a transgender writer and rocker living in NYC and I have just completed my first memoir. The book is called "Before I Was Me" and was edited by Kelly Caldwell (Gotham Writers Group) and Lambda Literary Award winner, Donna Minkowitz (Furious Romance, Growing up Golem). I transitioned in Jr. High school in California in the 1970s, and later attended NOCCA (New Orleans Center for the Creative Arts) with The Marsalis' and Harry Connick Jr. among others. 
I've fronted several bands in New Orleans and New York, and those bands have opened for a bunch of cool acts, including Iggy Pop, X, U2 and The Replacements and many others. I performed on the USS President and at several New Orleans Jazz and Heritage Festivals most notably on the main stage opening for The Neville Brothers who were followed by Stevie Ray Vaughn. You can find most my music here (Bandcamp).
Throughout the 1990s I fronted the critically acclaimed NYC noise–pop band Jenifer Convertible. Our releases —  "Car Song/Co-Dependency" (engineered/produced by James Murphy of LCD Soundsystem), "Speedracer/Rewind" (produced by Ray Ketchem of Elk City) and a CD entitled Wanna Drag, (produced by Wharton Tiers – Sonic Youth, Dinosaur Jr.) were widely well-received.
I was profiled on Vice.com a few years ago, will be featured in a documentary film about the early New Orleans punk scene entitled "Almost Ready", and am often featured in New Orleans press. Soon, I will (self?) publish my completed memoir Before I Was Me.
My new band, Lenny Zenith + Tenterhooks released its first EP in 2014. It was recorded at [the end] (Kaiser Chiefs, Dirty Projectors) and released on Sugarblast Music Co. and got some nice reviews including comparisons to Bob Mould and Cheap Trick. We are currently working on our full-length CD for a 2017 release with our old friend Ray Ketchem! 
I've spoken on LGBT panels at the University of Michigan and Marymount College in NYC where I try to form complete sentences involving the intersection of race, class, gender, and performance. I've read excerpts of my recently completed memoir "Before I Was Me" at Queer Memoir in NYC, and in New Orleans at LA46 and Carrolton Sation.
You can find all my music here: http://lennyzenith.bandcamp.com
You can contact me here: lennyzenith [at] gmail dotcom