LENNY ZENITH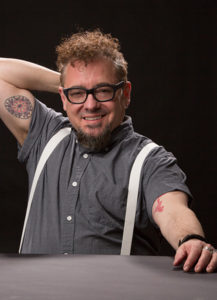 What if the Sun isn't strictly a debut, even though it's Lenny Zenith's first album under his own name. The pioneering transgender writer and rock musician has been releasing music for years with bands like Jenifer Convertible, Tenterhooks, Minor Planets, and RZA (he had the name first, by the way). He's worked with producers like James Murphy (pre-LCD Soundsystem!) and Wharton Tiers (Sonic Youth, Dinosaur Jr.). He's opened for legends including U2, Iggy Pop, The Replacements and X, to name just a few, and he's also performed everywhere from the USS President to the New Orleans Jazz and Heritage Festival (opening for The Neville Brothers and Stevie Ray Vaughn, no less).
It's only now, however, that he's ready to go full bore under his own name. This is a musician coming of age late of age, embracing all aspects of his dynamic life for an effort that is wholly, fearlessly Lenny Zenith. As with his forthcoming memoir, Before I Was Me (due out later this year), Zenith's story begins in 1970s New Orleans. After his parents divorced, Zenith moved to California, where he surreptitiously enrolled in junior high as a boy. The West Coast gave him his first brush with rock & roll, something he pursued upon returning to the Crescent City to attend the prestigious New Orleans Center for the Creative Arts. Post graduation, he became a regular figure in the local scene, mounting performance punk shows alongside outsider artists like Chuck Crosby and Daria Gabriel.
Perhaps his greatest success came when he headed to New York City. There he formed Jenifer Convertible, a '90s noise pop outfit that worked with James Murphy on the "Car Song"/"Co-Dependency" 7" single and Elk City member Ray Ketchem on "Speedracer"/"Rewind". After Jenifer Convertible parted ways, Zenith took a tech job at the University of Michigan. Though his music career was on the backburner, his passion still burned as he continued writing and working with U-M music students in his band Minor Planets, some of whom would go on to form burgeoning bands like minihorse and Lightning Love. In 2010, he returned to NYC more determined than ever to make his defining record. Enter What If The Sun.
After recording basic tracks with longtime friend and Jenifer Convertible/Tenterhooks' bassist, James Pertusi, and Tenterhooks' drummer Scott Campbell at Seaside Studios in Brooklyn, Zenith booked time at Ketchem's new Magic Door Recording in Montclair, New Jersey and began reaching out to his old friends. Elk City keyboardist Carl Baggaley and singer Renée LoBue joined in, as did band associate and violinist Claudia Chopek, fresh off playing violin on The Last Shadow Puppets' world tour. https://mnihrs.bandcamp.com/ minihorse's Ben Collins flew in from Michigan to contribute guitar, and his Minor Planets' bandmate Leah Diehl (Lightning Love) sent along keyboard and backing tracks. The album art dates back to New Orleans, with the front being a work by Crosby and the back one by Gabriel.
Of course, the music also takes influence from the entirety of Zenith's storied life. The electric punk track "Sunday Dress" comes from witnessing Detroit's industrial decline. Zenith comes to terms with age on the cruising indie pop of "Hands" and the driving "Out of Days", singing on the latter of "Opportunities I have squandered/ All the ways that I've been sidetracked." The lush '90s rock ballad "Wish" address the need for acceptance regardless of age, appearance, or, yes, gender identity.
It would be impossible for Zenith not to talk about being transgender. He does so on lines like "A little bit of surgery and a pronoun change/To find your little spot along the gender range" from "Suddenly Someone". Co-written by LoBue, the anthemic "Still I Rise" most directly addresses standing proud as a trans man. But Zenith says writing only about gender would be disingenuous to the full scope of his life experiences. "I think it's important for trans kids, trans individuals, to know that there are other people out there who are not just being trans, but are also writing and performing and being visible," he explains.
What If The Sun is indeed the work of a trans artist, and a portion of profits from the record will be donated to organizations like Trans Women of Color and Trans Lifeline. However, it isn't solely a trans record. It's the life and career of someone who has never given up on music and is finally ready to go all in. It's an album that asks, "What if the sun fell out of the sky?", and decides not to waste time. It's Lenny Zenith, in sum.