Singer Becky Kury to join revived RZA
by BUNNY MATTHEWS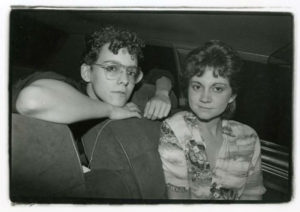 The other day, while I was examining a couple of $35,000 his-and-hers wristwatches encrusted with uncut diamonds and gilt piranha teeth at a local department store, it was brought to Iny attention that the clerk behind the counter was none other than Lenny Zenith, RZA's founder/guitarist. Yuletide cheer abounded elsewhere, but at this particular counter, things looked grim. Lenny announced to Ine the demise of RZA, explaining that the better the band got, the less popular it became. There was no reason to go on — Lenny's new calling was commerce.
So since no New Orleans band signed a $4-million recording contract that week, I announced in this space the next most newsworthy event – the end of RZA. A few days later, I was sitting down to eat some baked chicken when the telephone rang. Charlie Wehr, RZA's other guitarist and a person with whom I attended junior high school, was on the other end. "You doing anything?" "Uh, no … I was just sitting down to eat some baked chicken. It's always better cold anyway. . ." Charlie wanted to inform me that RZA was not going to break up but that bassist Ray Ganucheau and keyboardist Matt Scoggin were departing, to be replaced by a woman, Becky Kury, who is another person with whom i attended Junior high school.
BECKY WAS, of course, a prime attraction of the late Rhapsodizers, from whence she departed for a tenure with Atlantic Records in New York and further studies under the guidance of two renowned physicians, songwriter Doc Pomus and handyman Dr. Jonn. Upon graduation, our heroine moved to Puerto Rico, where she sold fried cow intestines (the Puerto Ricans have a more polite word for them but I can't remember it from a cart and did a lot of swimming. Eventually, she returned home to New Orleans, nursing school and a new band, the Cartoons.
The Cartoons, also featuring guitarists Tommy Malone and Johnny Allen, were moderately successful on the New Orleans circuit but disintegrated when Malone left to assume lead-guitar chores with Li'l Queenie and the Percolators.
With the addition of Becky, Charlie asserted, RZA's music will become "harder' and more evocative of Motown and James Brown. It will go well with draft beer and cigarette smoke, which is all most music followers ask. It will tend to cause dancing, which will tend to cause the dancers to drink excessive quantities of beer, which will make the bar-owners happy.
– Photo by Bunny Matthews
Lenny Zenith and Becky Kury will be in the lineup of the new RZA – which may get a new name as well.
Nothing for certain yet, but RZA may also undergo a name change as 1981 becomes 1982. Lenny will continue to merchandise fine products from Switzerland while considering new band names. Becky is wrapping up nursing school. Hold on – I've got it Li'l Bulova and the Scrubsuits' Catchy, eh?
象 –
HOLIDAY BURNS: Tav Falco, looking very much the decayed Memphis equivalent of Rhett Butler (freeze-dried eyes, a necktie festooned with dollar-signs, a lapel pin featuring Lenin's bust atop a red star on the cover of the Panther Burns' first album, will return to New Orleans this weekend for two evenings at the Beat Exchange (tonight and Saturday).