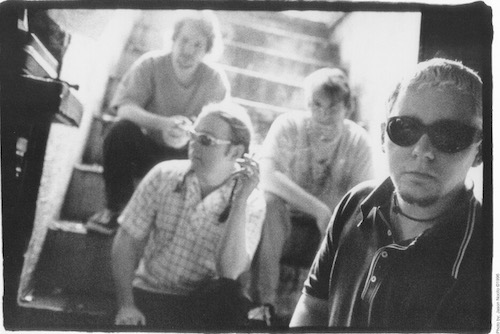 press darlings…
Jenifer Convertible review–written by and copyright Aaron Poehler
Wanna Drag? (CD)–Yum/Beloved Entertainment Group
Jenifer Convertible is a traditional-lineup rock band that purveys punky pop music (or poppy punk music, your choice) that looks back with fondness at more innocent times, both of personal childhood and once-mainstream, now-camp antique values.
Nothing on Wanna Drag? is exactly breaking any new ground and I'm sure the guys in the band would be the first to tell you that, but neither is it too specifically derivative, so Jenifer Convertible doesn't really sound like anyone else too directly. The band has a developed sound, which they explore thoroughly over the course of the album's twelve tracks (plus one 'hidden' unlisted bonus track outtake), produced cleanly and powerfully by the usually dependable Wharton Tiers. Like a less pompous, more melodic alternative to Live or a more endearing variety of Goo Goo Dolls, with the right touch of the Replacements' brash spirit, Jenifer Convertible's (there doesn't really seem to be any satisfactory contraction of the name–JenCon?) tightly arranged guitar riffs twine around the synched-up rhythm section skillfully and the band evinces plenty of energy
Ultimately, this record reminds me of no one so much as the Dentists, the late English band whose final album was also produced by Tiers–further evidence of the bands' similar approaches. Unfortunately for Jenifer Convertible's possible future, the Dentists struggled for a decade on small indie labels, then got signed, put out two records that didn't sell, got dropped, and broke up. History doesn't always repeat itself, though, and Jenifer Convertible is off to a relatively promising start here.
ChugChanga Top Records 1995
Okay, so I'll give in and give you my top records for '95.
Full-length (or close, at least)
1. Seam – Are You Driving Me Crazy? (Touch And Go)
Shorter Than Full Lengths:
2. Jenifer Convertible – "Speedracer" 7″ (Puddle)
Jenifer Convertible
Speedracer 7″
(Puddle)
reviewed in issue #77, 5/31/95 (by Jon Worley)
Three pop tunes in the post-punk tradition. And "Speedracer" is not the cartoon theme song. The song doesn't seem to have much to do with the show at all.
Short, pleasant riff works that make me think of summer somewhere other than Florida (where it has been summer ever since I moved here last fall). Nothing complicated, nothing particularly astonishing. Just nice pop music. And that is a real achievement all by itself.
JENIFER CONVERTIBLE (Scrawl, 1996)
If you are having a hard time staying awake at the wheel then you should
roll down the windows…better yet, pull the top down. Feel the wind in
your hair, smell the the open road and scream from the top of your lungs.
Jenifer Convertible's James Pertusi (bass), Lenny Zenith (vocals &
guitar), Jim Santo (guitar & vocals) and Andy Moore (drums) talk about
the correlation between their music and do-it-yourself engine rebuilding
kits. (1 pg, interview & photo)
IMR review (Speedracer 7″)
Next up is a clear green offering from Jennifer Convertible (Puddle).
While the two songs on the b-side fall a little flat, the title song,
"Speedracer" lives up to the praise thrown at their first single. As the
name implies this song speeds along with blazing guitars and memorable
vocals. With a two guitar attack and a bopping bass, Jennifer Convertible
are cruising down the street with plenty of wind in their hair.
UNKNOWN SOURCES
… and Jenifer Convertible from NYC (Lee Ranaldo joins the Posies) WE Festival (Wilmington, NC)

Jenifer Convertible, a noisy indiepop band, fulla hooks and great songs – WE Festival (Wilmington, NC)
SHALLOW END (reference to band in book – "Our Noise")
Review by Franklin Bruno
(Our Noise by Jeff Gomez, Simon & Schuster paperback, 1995)
"It's a trio, thinks the A&R man, just like Nirvana." –Jeff Gomez, Our Noise
"The world is filled with guys like Jim who resist generational tags for fear of being swept up in a mob that's a tenth of a degree less intelligent than they are." –ibid.
"Why yes, Sarah, please get me a double short half-decaf mocha and a Voice. Did you buy that sweater at Urban Outfitters?"
"Yes, but I'm wearing a Knapsack t-shirt underneath it." She turns prettily, like something out of a J. Peterman catalog, and leaves the office. Maybe she'll be different from all the rest, thinks Bob. Unbeknownst to him, Sarah is sleeping with an ex-member of Jenifer Convertible.
Sometimes he feels remorse over the fact that he and his bosses could just as easily be throwing the company's money (not that Jeff's advance was huge) at someone who can write. But his entire industry, as well as several others, had grown fixated on capturing the fancy of some alleged generation, a carefree yet suspicious generation, so eager to consume, yet so afraid to belong, drifting aimlessly down the road of America like a J. Mascis solo, this generation with more home pages than homes.
The Gajoob Interview
… Jim Santo's band, Jennifer Convertible, is pretty cool too, but they're on
the verge of getting signed, I think, so maybe they don't count either. …
  FURTHER PROPS from Canada
Jenifer Convertible: Disc produced by N.Y. noise avatar Wharton Tiers,
OK Pavement/SY-oriented rock
Rivoli (NXNE, Toronto, June 1997)
(a couple of gigs to remember)
Jennifer Convertible. Fri. at Boot and Saddle, 1 a.m.
(guy from Bloodhound Gang ate a mouse)
(Phila, 1995)
Irving Plaza (Phiber Optik benefit, NYC Jan, 1994)
(gig for just released hacker)
reference to a J.C. ex-drummer in someone's blog —
…my apologies to everyone involved.
so shea my best friend and life long bass player joins and we start gigging with the first drummer who also played with another band at the time called jennifer convertible and they were pretty good too but he just had a kid and his wife freaked out about him never being home and smoking pot so she ripped up the suit of his that we play out in and destroyed the bass drum skin which had the logo on it and then he flaked out just before a cbgb's gig which me and shea played unplugged….

LOSERS LOUNGE Zombies' Tribute Show review
Dave Goldsman.The following is a mini-review of the recent Zombies cover show at
Fez. … Another highlight was "Butcher's Tale," sung and played in a campy but heartfelt style
by They Might Be Giants. (Jim, who also attended the Feb. 15 show,
reports that Lenny Zenith's version was even better.)